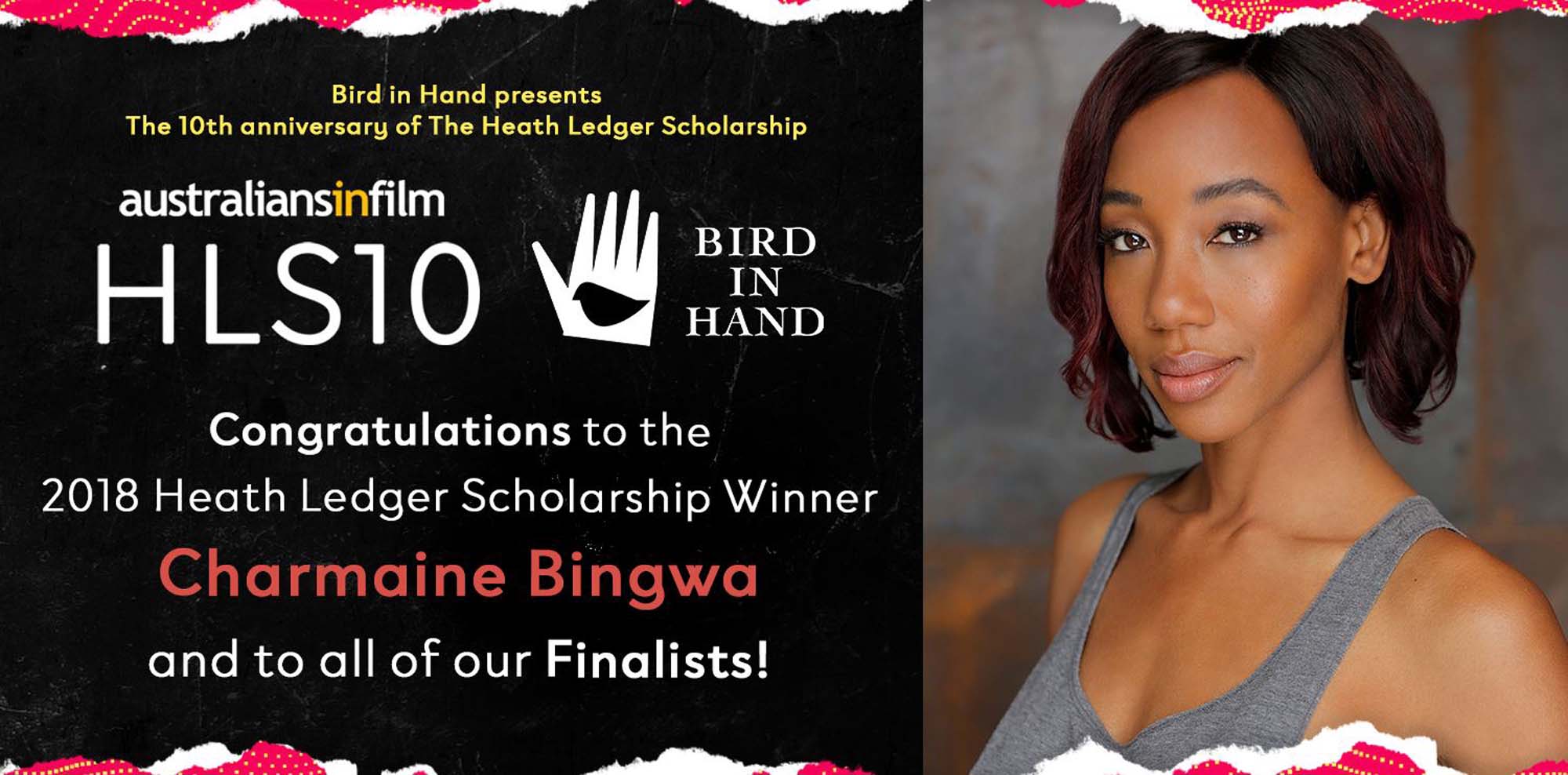 2018 Heath Ledger Scholarship
Australians in Film is pleased to announce the finalists of its 10th anniversary Heath Ledger Scholarship, which this year is being presented by leading Australian winery Bird in Hand.
The non-profit screen foundation, which brings together the Australian and global entertainment industries, is also proud to announce a record number of applications and an increase in applicants from diverse and underrepresented communities in its 10th year.
The finalists were: Aaron Glenane (Picnic at Hanging Rock, Danger Close), Bethany Whitmore (Picnic at Hanging Rock, Girl Asleep), Charmaine Bingwa (Little Sista, upcoming Nekrotronic) Kipan Rothbury (Significant Strangers), Brenna Harding (Puberty Blues, Black Mirror), Ezekiel Simat (High Life, upcoming Lambs of Gods), Shalom Brune-Franklin (Doctor Doctor, Thor: Ragnarok), Nicholas Denton (Glitch), Harvey Zielinski (Starting from...Now) and Gemma Bird Matheson (Neighbours).
The finalists were announced live via Instagram by Australian actor and 2018 HLS Ambassador Eka Darville (Jessica Jones, Empire). The recipient will be announced on Thursday, September 20 at the iconic Chateau Marmont, with all ten finalists present courtesy of Qantas. The 10th year anniversary Scholarship is valued at US$30,000.
Adelaide Hills' winery, Bird in Hand, a producer of fine wines and lover of arts and culture, will present the 10th Anniversary Heath Ledger Scholarship (#HLS10). Bird in Hand's charitable arm, the Bird in Hand Foundation, aims at giving back to the community and supporting initiatives that focus on community, the arts, education, Indigenous services and gender equality. Bird in Hand proudly supports young Australians in various creative fields including film and is honoured to present the 10th anniversary of the Heath Ledger Scholarship, alongside longstanding partners Qantas, Ausfilm and Screenwise, Australia's leading Film & TV School for Actors.
AiF is thrilled to welcome this year's media partners - Vogue Australia and GQ Australia as well as The Standard Hollywood, to be the #HLS10 official hotel partner.
An Australians in Film Heath Ledger Scholarship will be awarded to an Applicant who:
Shows evidence of initiative and exceptional talent with ability to convert ambitions to reality.
Demonstrates their commitment to excellence, including dedication to craft.
Demonstrates passion for their work with potential to be outstanding in an international context.
Is ready to undertake activities such as (but not limited to) post-graduate study, mentoring or private lessons or study tours will be looked on favorably.
The scholarship activities must be undertaken in the 2018/2019 calendar year.
The scholarship is awarded to an actor who is ready to transition to an international career or train in Los Angeles.
AiF encourages actors from under-represented members of the Australian screen sector to apply.