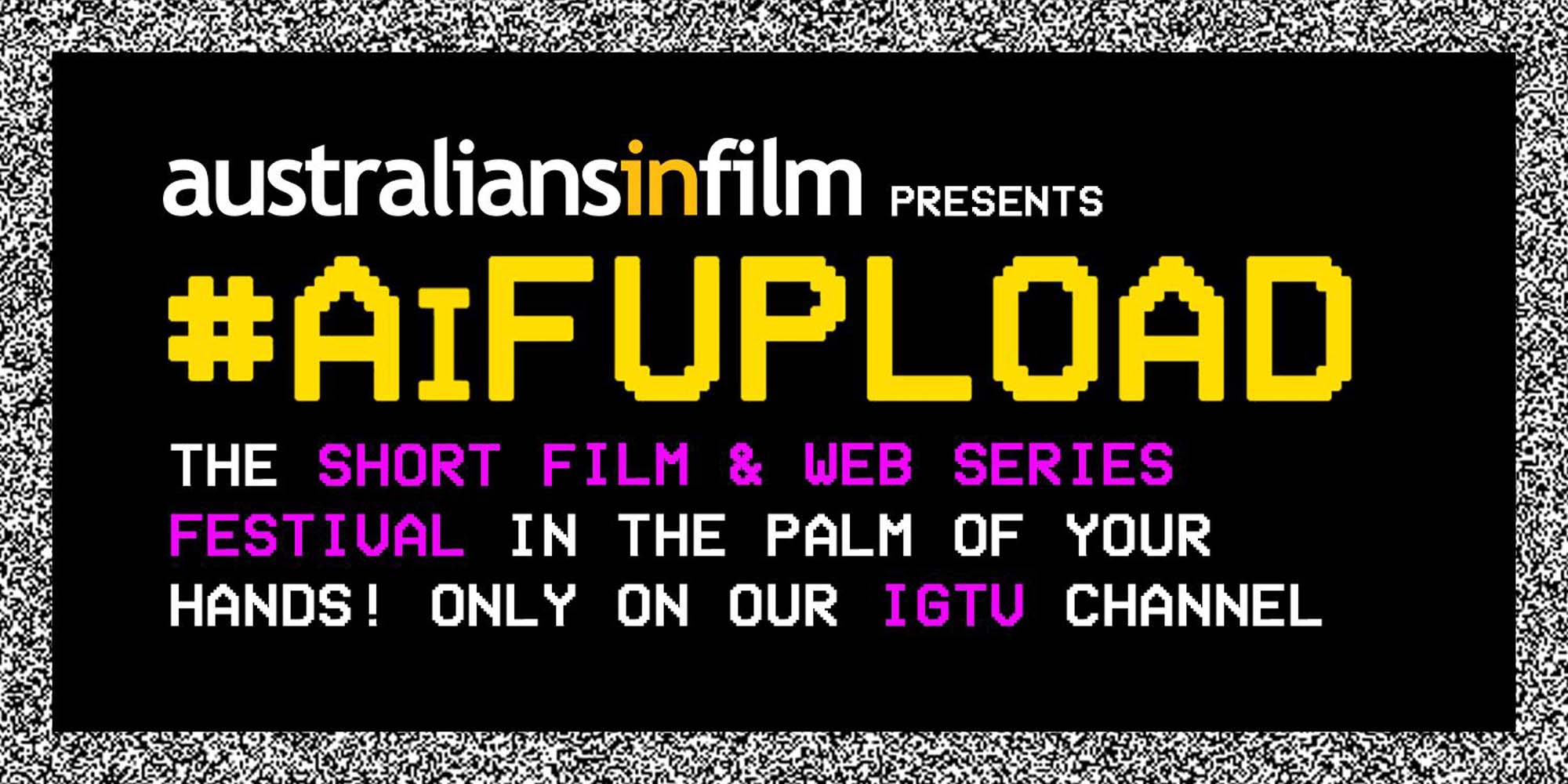 AiF Upload is an online shorts festival inviting AiF members to share their original works through the world's largest creative digital community — Instagram! We encourage shorts across all genres to be considered for submissions including animation, comedy, drama, action and documentary.
A selection of 10 shorts will be hand-picked by AiF and uploaded to AiF's IGTV for one week. AiF will announce the best of the bunch titled, Jury Prize, followed by Fan Favourite - the short that gained the most Instagram likes/views a week later.
1. SHORT FILM SPECIFICATIONS
The maximum duration for each short film is to be no longer than ten (10) minutes, including credits. Applicants must submit either a link to a high-resolution video no larger than 4096 x 2160 pixels on YouTube or Vimeo, or if uploading to cloud storage, a video file in Quicktime (.mov) or MPEG (.mpg, .mpeg, .mp4). Please ensure there is no password and sharing settings are enabled for AiF to download your short film.
2. SUBMISSION ELIGIBILITY
Your short must be submitted between Sunday, July 22nd, 2018 at 10am PST and Sunday, August 5th at 11:59pm PST. To submit a short, members must upload the short film to WuFoo.com. In addition, members must also agree to AiF's terms on the Submission Form hosted on WuFoo.com. Failure to comply with these requirements will result in disqualification from the submission process
The winners of AiF Upload will be announced on Friday, August 24th 2018 with:
Jury Prize receiving a $500 cash prize and
Fan Favourite receiving $250 cash prize
Monday July 23 - Submissions open
Monday August 6 - Submissions close
Monday August 6 to Friday August 11 - AiF Panel Selection week
Monday August 13 - Festival begins on IGTV
Friday August 15 - Final short film premieres on IGTV
Friday August 24 - AiF announces the "Jury Prize" and "Fan Favourite" shorts on Instagram
Friday October 26 - Final day for all shorts hosted on AiF's IGTV channel
When is the submission period?
Submissions open on Monday July 23 at 10:00AM (PST) / Tuesday July 24 at 3:00PM (AEST). Deadline for submission is Monday 6 August at 11:59AM (PST) / Tuesday August 7 4:59AM (AEST). Finalists will be announced throughout August 13th - 15th and prize winners announced on Friday August 24 (USA), Saturday August 25 (Australia).
Who can enter?
ONLY current AiF members are eligible to submit. Membership will be checked.
***NB: FLEXI-PASS HOLDERS ARE NOT ELIGIBLE***
How do I submit my short film?
Submit your 10-minute-or-less film using WuFoo.com and agree to AiF's terms. The short film will be publicly available on AiF's IGTV account until Friday October 26, 2018.
Do I need an Instagram account to submit my short?
No, but to increase your short film's awareness, we highly recommended you do so you can share it with friends and colleagues and other interested parties! (just make sure your account is set to 'Public')
How much does it cost to submit?
It's free!
Can I submit more than one short film?
At this stage, we can only accept one film per submission.
What if a short film is directed by more than one person?
That's totally okay, just include their name/s and Instagram handle in your submission form.
My film is not in English. Can I still submit?
Of course. However, please subtitle your film in English if the spoken language is not English. Films in a different language other than English and not subtitled in English will not be considered for the festival.
Am I required to own the music in my short film?
If your short film features music, it must either be an original composition, a song that you have licensed, or have the artist's permission to use. By uploading your work to Instagram, we will assume your work, including any music, is completely yours, or that you have full permission to post it with all its elements.
I have a question about film rights and ownership?
We encourage all members to read our terms in the submission form on WuFoo.com or on our Terms page.
Do you accept works-in-progress?
No, your short film must be the final cut and cannot be altered after submission.
What if my short film contains explicit content?
All submissions must follow Instagram's Community Guidelines.
How long will my short film be up on IGTV?
AiF will keep your short film online until Friday October 26 (USA) / Saturday October 27 (Australia)
How are the award winners chosen?
The top 10 finalists will be uploaded on AiF's Instagram channel from Monday August 13th to Wednesday August 15th (USA), at which point, AiF's panel of judges will select a winner for the "Jury Prize". The "Fan Favourite" will be awarded to the film with the highest Likes-to-Views ratio on Instagram on Friday August 24 (USA)
Likes-to-Views? Say whaaat?
We have a team of super-smart chimps who can crunch this data – by dividing each short film's Instagram Likes by the number of Video Views. Therefore, the short film with the highest Likes-to-Views ratio will be selected to receive the Fan Favourite Award!
What prize do award winners receive?
The Jury Prize winner will receive a $500 cash prize and the Fan Favourite winner will receive a cash prize of $250. The Top 10 films will also be publicly available to view on AiF's IGTV channel for two months after the end of the festival until Friday October 26 at 6:00PM (PST) / Saturday October 27 at 11:00AM (AEST)
How will I know if my short film is selected to be a finalist?
You will have to keep your eyes glued to AiF's social channels for the announcements throughout the week in alphabetical order (like good filmmaking, we love a bit of suspense)
When will the winners be announced?
The Jury's Choice Award and Fan Favourite Award winners will be announced on Friday August 24th (USA) / Saturday August 25th (Australia)
If you have any other questions or concerns:
email AiF at membership@australiansinfilm.org or DM us on Instagram!
By submitting the Film to AiF, the Applicant and Film Owners (the "Submitting Parties") hereby warrant and represent that:
the Film is wholly original and is not copied from and does not include any other work that is the subject of copyright or other protection, unless such work is in the public domain or the Submitting Parties have obtained any and all consents, releases, licenses, and other authorizations or waivers of any kind necessary for the inclusion or reproduction of any person, character, location, thing, trade-mark, sound recording, musical composition or other work in the Film;
the Film does not defame any person or violate the common law or statutory rights, including, without limitation, the rights of privacy and publicity or any other right of any person;
the Film is not the subject of litigation nor, within the knowledge of the Submitting Parties, is there any threat of litigation;
there are no agreements, nor will there be any agreements made subsequent to the date of this Film submission that would or could have the effect of impairing the Submitting Parties' ability to provide the Film as contemplated herein, or otherwise conflict with any provision of these Terms; and
the Submitting Parties have the full right, power and authority to submit the Film to AiF for Shorts Festival consideration, and to grant all of the rights granted hereunder and in the registration form, and there is no obligation or disability which would in any way impair, restrict or impede the Submitting Parties from fully performing all obligations pursuant to the submission and these Terms.
The Submitting Parties agree to indemnify and hold harmless AiF, its licensees, successors and assigns, and its and their members, officers, directors, employees, agents, representatives, associates and affiliates (each, a "Releasee"), from any claim, suit, action or other proceeding brought against a Releasee and from any losses, costs, or damages, including the Releasee's full legal costs, which it may have suffered or incurred or may suffer or incur, directly or indirectly based on, in connection with, or arising from the use and Shorts Festival of the Film submitted by the Applicant or the breach or alleged breach of any representation, warranty or other agreement made by the Applicant in these Terms. By submitting an Film to AiF, the Submitting Parties hereby release AiF from any and all liability in the event of theft, unauthorized access or copying, or any breach of copyright of the submitted Film while it is in AiF's possession.
By submitting the film to AiF, the Submitting Parties hereby grant AiF, its successors, assigns and licensees a non-exclusive irrevocable, royalty-free license to incorporate, use and reproduce the Film in whole or in part, in any manner and in all languages, editions, derivations, formats and media, whether now known or hereinafter devised in all territories throughout the world, in perpetuity for various purposes in connection with and promotion of the Shorts Festival, AiF's charitable mandate and in connection with the activities and ancillary products of AiF, its affiliates, partners, and sponsors.
The Submitting Parties hereby waive in favour of AiF and its successors, assigns and licensees all moral rights of whatsoever nature in and to the Film and any right to inspect and/or approve any advertising or promotional materials that may be used in connection with its use by AiF as expressly permitted hereunder.