AiF's dedicated work & networking space in West Hollywood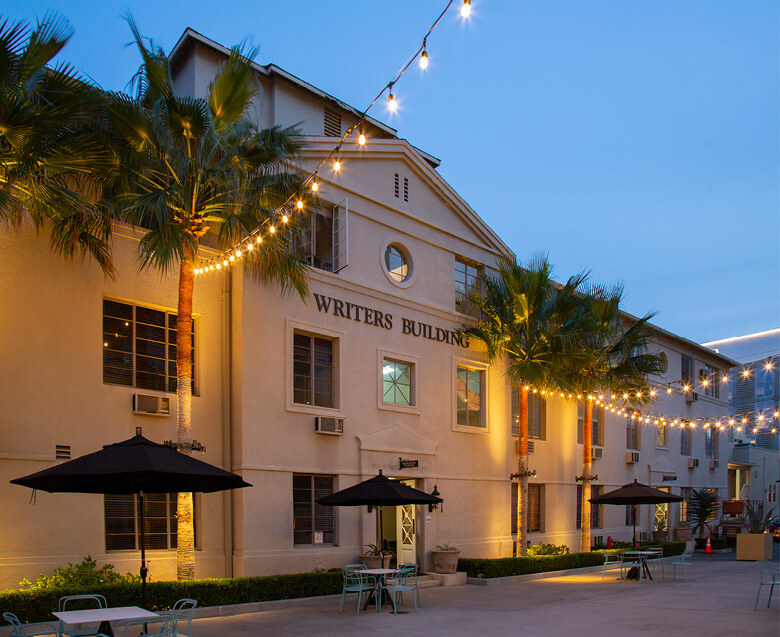 Charlie's is a creative co-working space, networking and events hub, and leading international industry incubator.
It is an intersection point for the Australian film & television community and the US and international screen industries to come together, meet, network, and possibly toss around ideas on how to work together.
First opened on June 17, 2016, Charlie's was founded by Screen NSW, AFTRS, and Film Victoria (now VicScreen). Now hotdesk space is available for residents through Screen NSW, VicScreen, South Australia Film Corporation, and Screen Queensland with Australians in Film managing and being the anchor tenant. It is our HQ in West Hollywood.
This inspiring creative place was named after Charlie Chaplin and is now located at The Lot at Formosa in the heart of West Hollywood.
Charlie's was originally created to provide a softer landing for Australians when they first arrived in Los Angeles and to provide ongoing access into Hollywood and to help open doors for a variety of reasons, whether personal, social or business.
An essential part of AiF's ongoing mission is to provide a safe, creative and supportive community for Australians and our international mates working in Los Angeles. Since the beginning of AiF over 20 years ago, we have been devoted to providing content creators a sense of community and exclusive access to the industry through our screenings and various social and career development programs. Over the years, AiF's continuing efforts have enabled us to build a creatively-led global community that is progressive, inclusive, and supportive.  
Over the years, Charlie's has become the unofficial Australian creative embassy in Los Angeles. Projects such as The Dry, Penguin Bloom, The Letdown, Ellie and Abbie (and Ellie's Dead Aunt), and Long Story Short have all started their journeys at Charlie's, in some way.
Hear what our members say about Charlie's and the AiF community:
"Charlie's is a great haven in LA for the Australian screen industry. With the industry becoming more global it is so essential to have a presence in LA right now, and what a precious and much-needed presence Charlie's is!"
Liz Watts, CHARLIE'S RESIDENT 2019 – Award-winning producer of Animal Kingdom, The King, Mary Magdalene, True Story of the Kelly Gang
"My latest screenplay was written at Charlie's. In what can be a lonely and bruising industry, organizations like Australians In Film are vital, so too are spaces like Charlie's. They provide a place of community, support, and inspiration. The support of initiatives such as Charlie's is largely why Australia has a great reputation around the world for producing great screen talent, both in front and behind the camera." ​
Josh Lawson - oscar-nominated  writer, actor, and producer of The Eleven O'Clock​
"I've now worked on three separate projects at Charlie's and wouldn't have been able to achieve half the work I've been able to without such a reliable, supportive sanctuary. Having a place where you can work with security, surrounded by friendly faces who are also on similar crazy journeys is both inspiring and grounding. People talk a lot about how isolating Los Angeles can be but a place like Charlie's really makes you feel less alone and part of a community."
Nicholas Verso, CHARLIE'S RESIDENT 2017 & 2018 – Writer &Director of Boys in the Trees
"Charlie's and AiF is an incredible resource in Los Angeles. ​
For Australian screen creatives and executives coming to LA for business, the industry and city can feel overwhelming. Charlie's is a gorgeous space to use as a base and a real sanctuary from the hustle and bustle of LA. ​ The entire AiF community is very welcoming so accessing their experience and wisdom in dealing with the LA industry is an extraordinary advantage for the Australian screen industry."​
​Polly Staniford– Aquarius Films
It's one thing to offer support and encouragement to emerging Aussie storytellers - and AiF certainly does this - but it's a whole other deal to actually provide tangible career pathways that lead to legitimate work! Not only do AiF talk the talk, but they also well and truly walk the walk. I could not be more appreciative to have this organization in my corner, and I could not have any more respect for the work that they do."
Yolanda Ramke, GATEWAY LA RECIPIENT 2015 - writer and director, of Cargo
"Charlie's is an essential space for creatives who need a base in LA. Not only do they run amazing events, but Peter and Isabel are also incredibly lovely and supportive, and seem to know everyone! Writing, in particular, is sometimes quite a solitary profession, but Charlie's makes me feel like I'm part of a community. I've worked on multiple scripts out of Charlie's, including plotting out my newest feature SURFACE with fellow Pathways writer Gemma Crofts, and practicing the pitch for my Scripted Ink supported project AWAKE. I don't know of any other country that has something like Charlie's"
Catherine S. McMullen Writer – The Other Lamb
For information on how to apply, contact your local state government funding body:
We look forward in seeing you at Charlie's!